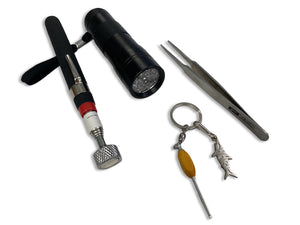 Tools of the Trade Kit
Landsharkz
Regular price $24.00 Sale
Some of our most popular Tools of the Trade bundled together at a savings of 15% (value of $36.46). Perfect for gift giving!
UV Flashlight: You'll feel like a CSI investigator with this flashlight! It's built to last and has 12 UV LED's, it takes 3AAA batteries which give it over 20 hours of burn time. It has a large pushbutton switch on the end making it easy to use. The nylon strap on the end ensures you will not drop it when you're out night caching in the dark. 
Magnetic Pick Up Tool:  You will find this magnetic pick-up tool to be an essential tool of the trade for those hard to reach caches. It features an 8 lb lifting capacity and a telescoping handle  6-1/2" to 24-1/2" long.  This tool of the trade is perfect for any geocacher's tool kit!
Landsharkz Micro Log Roller: The official Landsharkz Nano Log Rollers!  Made with cotter pins and colourful beads, each also features a split ring so that you can use them on your keychain, as well as our brand new Landsharkz zipper pull tag to keep and admire or leave as a trade item.  They are perfect for rolling up those tiny micro nano logsheets!  The sturdy metal swivel allows you to spin logs easily. The colours are assorted.
Tweezers: It can be difficult to get into those micro caches. Here's a nice set of tweezers to help you get that log in and out of the cache. They are stainless steel and non-magnetic. 12cm or 4 3/4" long.